Kinesiotaping has been breaking new ground in the fields of sports performance, pain management and physical therapy. Many people have started to see it on athletes, starting with cyclists and the women's beach volleyball team. Now you can spot Kinesiotape on many professional athletes.
The Kinesio Taping Method is designed to facilitate the body's natural healing process while allowing support and stability to muscles and joints without restricting the body's range of motion. It is used to successfully treat a variety of orthopedic, neuromuscular, neurological and medical conditions. 
Information:
Allows clinicians a treatment in between treatments. Kinesiotape provides a treatment when the patient is not in the office, by offering support and stability during the activities of daily living. 

Developed by a Chiropractor, Dr. Kenzo Kase in the 1970's

The tape has a texture and elasticity very close to living human tissue. Once applies, you barely know its even there.

The tape can be worn up to 5 days.
Goals:
Re-educate the neuromuscular system

Reduce pain

Optimize performance

Prevent injury

Promote improved circulation and healing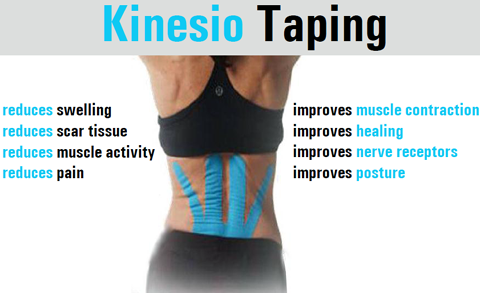 Acute or Chronic conditions helped by Kinesiotape:
Hematomas (bruises)

Acute swelling

Neck pain (sprains/strains)

Low back pain (sprains/strains)

Shoulder pain including impingement, bursitis and rotator cuff tears

Elbow pain- tennis or golfers elbow

Wrist pain including carpal tunnel

Hip pain

Knee pain including ligament sprains or meniscus tears

Ankle and foot pain including plantar fascitis and achilles tendinosis
Other info:
Brands

I like Rocktape the best but also use Kinesio tape, KT tape or SpiderTech
Sources:
http://www.kinesiotaping.com/