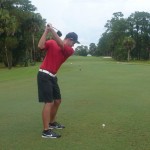 It's FedEx cup season, which is the playoffs for the PGA Tour.  So far Adam Scott and Henrik Stenson have won a playoff event. While watching the Deutsche Bank, I was thinking about Arnold Palmer's commercial, "Swing your own swing." If you haven't seen it I will post a link at the end.
My point is, every professional has their own unique swing, but yet all golf professionals are very good. I was thinking to myself, professionals all swing the club different yet produce the same results, they must all have something in common?
Yes they do, and it's called efficiency!  It must be pretty important, because it is included in Titleist Performance Institute's philosophy. See the "About TPI" page for more info.
How does efficiency relate the golf swing?   I ask people all the time would you rather have Jim Furyk's swing or Davis Love or Ernie Els swing.  To no surprise, no one has said Jim Furyk yet!  And you know what I say to them? I would love his swing!
It's rather simple, Jim Furyk has made 10 million more than Davis Love and Ernie Els.  Jim Furyk is efficient! His swing is not the prettiest, but he works with what he has, and is able to produce consistent results.
Point of the story: Efficiency rules!
Now here's my main point of this blog.  From TPI, there are 3 things which lead to bad efficiency
Poor mechanics
Poor conditioning
Poor equipment
There's also a reason for the order.  Don't go buy the latest driver and expect a smooth swing like Ernie. Yes technology has changed dramatically. If you still have persimmon woods and irons with no forgiveness make an investment in new equipment!
Now, if you have fairly recent technology equipment invest in your body.
The pros know this, which is why professionals work on mechanics and conditioning of their bodies daily.
Seek out a TPI professional. They will be able to help you with the 2 most important things which can lead to a break down in efficiency.
A TPI screen will point out limitations in the body due to poor conditioning and a video analysis can identify characteristics in the golf swing which may lead to mechanical breakdown.
A little can go a long way.
Swing your swing video link- http://www.youtube.com/watch?v=MkX6xQM_QE8