Many professional athletes and Olympians use Chiropractic care as part of their training and daily regimens.
Professional organizations realize the crucial role Chiropractors play for their athletes in finding and treating the root cause of pain including the Olympics and all major professional sports.
On the PGA tour, many golf professionals utilize Chiropractic service. The top golf professionals have a team built of a fitness expert, swing coach, short game coach, mental game coach, and a medical expert such as a Chiropractor and Physical Therapist.  The medical expert acts to coordinate the other team members to ensure that the athlete is moving properly and monitors the way the athlete trains.
All 32 NFL teams incorporate Chiropractic in order to provide the best care for their players. Chiropractors ensure the athletes nervous system's are functioning at the highest levels.They also provide soft-tissue work such as Graston,  Active Release Technique (ART) and assess athletes for injury. The NFL understands the consequences of reducing the pain mechanism of the body by covering it up with analgesics.
Super bowl-winning quarterback Aaron Rodger's father is a Chiropractor and has received care from a young age. "Chiropractic helps you perform your best!"
Olympians are now routinely receiving Chiropractic care because they want to perform at the highest level. At London 2012, 150 Chiropractors traveled and treated U.S. athletes. Dr. Terry Schroeder, is a Chiropractor as well as the U.S. Men's Water Polo head coach. His athletes are certainly receiving Chiropractic care, which helped them take the silver medal in the 2008 Olympics.
Other Olympians such as Usain Bolt, Anna Cummins, Asafa Powell, Veronica Campbell credit Chiropractic to help them perform at the highest levels.
14-time major winner Tiger Woods quotes, "Lifting weights and seeing a chiropractor on a regular basis has made me a better golfer. I've been going to chiropractors for as long as I can remember. It's as important to my training as practicing my swing."
All-time great athletes such as Barry Bonds, Emmet Smith, John Stockton, Joe Montana, Evander Holyfield, Mourice Jones Drew, Tom Brady, Terrell Owens, Jerry Rice, Johnny Damon, Arnold Schwarzenegger utilize Chiropractic Care.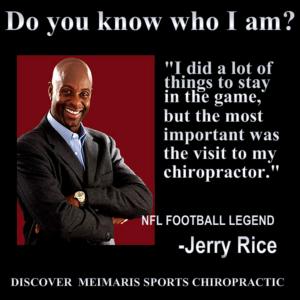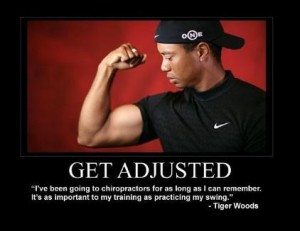 Sources:
http://www.chiroeco.com/article/2005/issue14/SP1.php
http://mississaugachiro.com/chiropractic_for_athletes.php
http://drlavanga.com/blog/?p=219
http://drmaj.com/green-bay-packers-super-bowl-quarterback-aaron-rodgers-received-regular-chiropractic-care-from-his-father-dr-ed-rodgers-throughout-his-athletic-career-chiropractic-helps-you-perform-your-best/