I am a Sports Chiropractor, life-long learner and golfer. Golf has been a passion of mine since I could walk, and now I have to opportunity to combine Chiropractic and Golf in order to increase your performance on the course. For those of you who do not know me, I am either reading, exercising, playing music or golfing of course.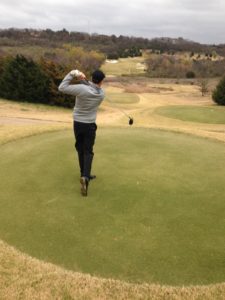 Professional Bio
Dr. Chris is quickly becoming one of the top Sports Chiropractors not just in the DFW area, but in the country. Since joining the ChiroSports team in 2014, he has developed many relationships with athletes, professional organizations and active individuals. Chris has had the opportunity to treat many athletes, and people looking to improve their quality of life. Notable clientele Chris has had the privilege to be able to:
Travel on the PGA Tour, and work with collegiate and amateur golfers
Dallas Stars hockey team

Traveled with the Dallas Stars during their 2016 playoff run

Worked with Olympian bobsled, sprinters and volleyball players
Long Drivers of America
Triathletes and Marathoners
Personal Bio
Chris's love of Chiropractic began with two separate events at a very young age.  His mother got in a serious car accident when Chris was very young.  After dozens of trips to the University of Michigan, she was told she would never be pain-free and would have to live the rest of her life disabled.  After a recommendation to a Chiropractor from a friend, she was soon pain-free and able to live her life the way she was prior to the accident.
Secondly, just after starting to walk, Chris was playing in the yard and attempted to kick a soccer ball.  His foot went right over top of the ball and dislocated his hip.  Instead of taking Chris to a Pediatrician or the emergency room, his mother carried him in to the Chiropractor's office.  Because of Chris's chiropractor, he was able to get off the table and walk out the door!!
After a junior career of golf, which includes winning a state championship at Powers Catholic High School and an extensive medal and trophy collection, Chris decided to postpone pursuing a career in golf and instead on receiving a top education.  He received a Bachelor's of Science in Biomedical Science and Chemistry from Grand Valley State University in Michigan and his Doctor of Chiropractic from Palmer College of Chiropractic, Florida.
He met the love of his life during his first semester at Grand Valley. They have been together ever since including across the country. Danielle and Chris have moved from Michigan to Florida and now to Texas. She works as a nurse and is currently furthering her education.